Lucid Motors
Newark, CA

Vehicle Integration Engineer
July 2021 - Present

I joined Lucid Motors, a rapidly growing EV startup, in July 2021 as a mechanical engineer on the Vehicle Integration team. Along with my colleagues, I help take new vehicles from the concept development stage to production.

I am responsible for defining and owning customer-centric requirements for vehicle attributes across Lucid, tracking engineering progress and ensuring our products meet our customers' needs and expectations. This involves working cross-functionally with our different attribute engineering teams and, for some attributes, developing verification and validation plans myself.

I also work with our Program Management, Engineering, Software, Manufacturing, and Design teams to create Build plans for various vehicle programs and prototype phases; along with timelines and quantities, this involves defining the vision and scope for each build while being as efficient as possible with our resources to meet all conflicting needs.
SharkNinja
Needham, MA

Consumer Product Development Intern,
Shark R&D
From June to December 2020, I interned at SharkNinja, a leading manufacturer of home appliances, in Needham, MA. I was a Consumer Product Development Intern on the Shark R&D team, taking new products from the prototype stage to mass-manufacturing.

During my internship, I led early-stage development on specific product features for some of Shark's 2021 offerings- this involved iteratively designing, prototyping, and testing parts and assemblies. Some of this work ended up on a filed patent application that I am listed as an inventor on, and the nozzle was launched in the Japanese market as the EVOPOWER System.

My role also involved creating and executing testing plans (DOE) to diagnose current product issues with the goal of performing running changes to existing SKUs. Lastly, I worked with the Operations team as well as prototyping vendors and OEMs to improve SharkNinja's in-house and purchased rapid prototyping capabilities.

The EVOPOWER System was launched in Japan in October 2021- I helped develop the floor nozzle, whose advanced single-brushroll design allows effective suction of debris of varying sizes across all floor types in a lightweight, maneuverable footprint ideal for the global vacuum market.

Markforged
Watertown, MA

Materials Print Intern
In Summer 2019, I interned at Markforged, a leading manufacturer of metal and composite 3D printers, as part of their Materials team.

While at Markforged, I created the DOE for an extensive study looking into filament compatibility with Markforged's lineup of composite 3D printers. This involved use of testing equipment for dynamic mechanical analysis, tensile testing, and rheology, among others. I also assisted in development of Onyx ESD, an Onyx chopped-fiber filament variant with static-dissipative properties, as well as created and redesigned software and hardware tools used internally within the Materials team to improve efficiency.
Invacare
Elyria, OH

Engineering Intern, Global Power Engineering
In Summer 2018, I interned at Invacare Corporation
(NYSE: IVC)
, a leading manufacturer of non-acute medical devices, as part of the Concept Engineering team on the Global Power Engineering group.
While at Invacare, I assisted in the mechanical design and prototyping of a new low-cost, modular power wheelchair, complying with FDA regulations, to enter manufacturing starting mid-2019. I also helped design potential solutions to constrain vital components to pass the ANSI/RESNA standard 20G crash test, and worked with the QA team to investigate drive motor testing plans after import.
Cornell Rapid Prototyping Laboratory
Ithaca, NY

Lab Manager / Research Assistant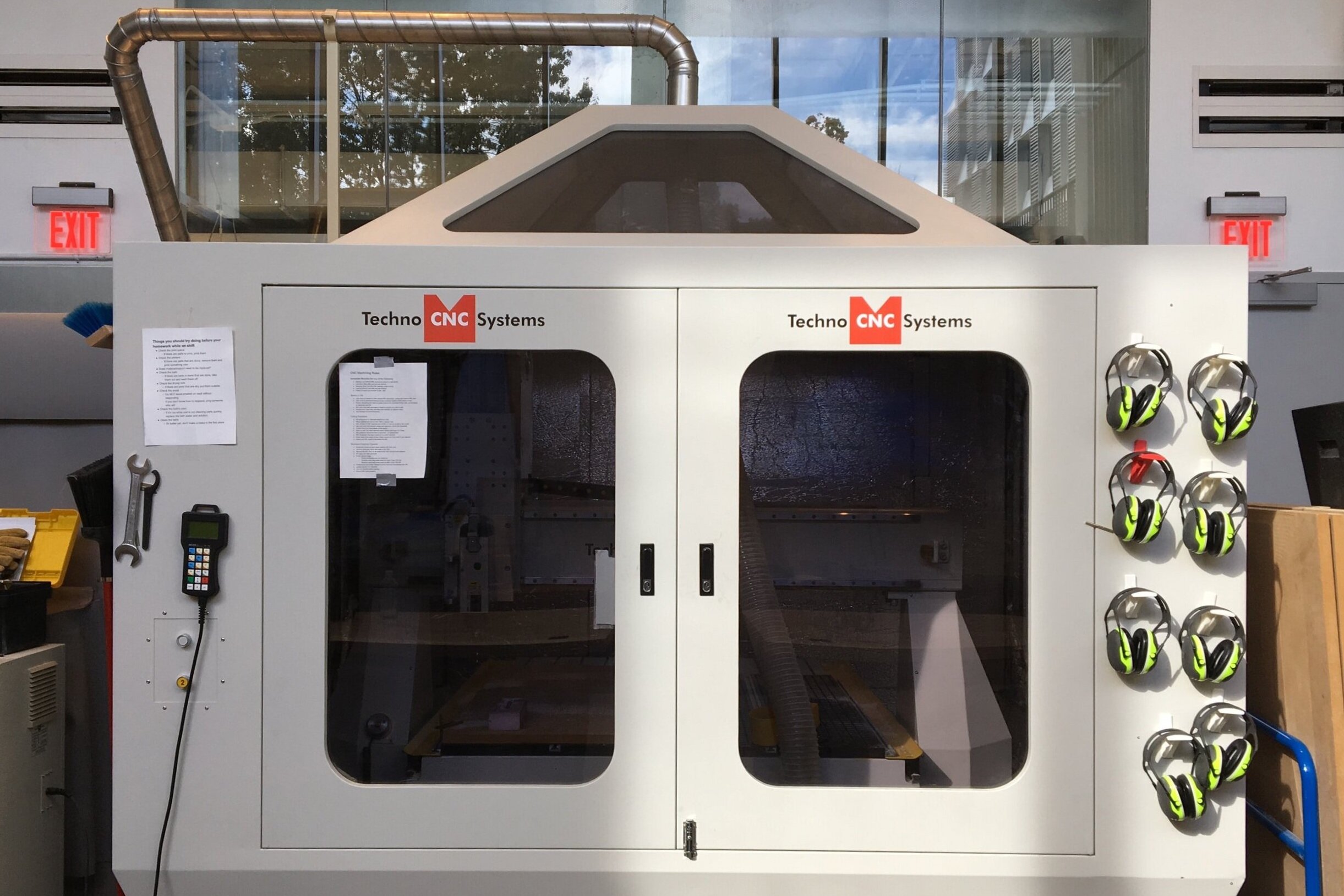 The Rapid Prototyping Laboratory (RPL) is an entirely student-staffed makerspace catering to engineering project teams and Cornell Engineering classes. RPL has ten 3D printers from industry pioneers like Stratasys, Markforged, and Formlabs, among others, as well as two laser cutters and one CNC router.

I worked at RPL as a student employee from January 2018 to May 2021, and ran the lab from May 2019 onwards. As student employees, we were responsible for the upkeep and throughput of the equipment in the Lab, as well as acting as consultants, working with students to better design their parts and expanding the knowledge of rapid prototyping methods on campus.

As a co-Lead, I supervised a dozen student employees and was responsible for increasing the efficiency of the Lab and its equipment, working closely with MAE department staff.

Cornell Baja SAE Racing
Ithaca, NY

Suspension and Ergonomics Subteams
As a member of the Cornell Baja Racing team for almost the entirety of my college years, I've been involved in the design, analysis, manufacturing, testing, and racing of offroad cars at many Baja SAE competitions.

While on the Suspension subteam, I designed the front and rear uprights, ball joint assemblies, and welding fixtures. As a member of the Ergonomics subteam, I was responsible for the material selection, design, and manufacture of the body panels and steering wheel assembly, as well as overall fabrication of various ergonomic components using advanced manufacturing methods.

We have done well competitively, consistently placing in the Top 5 over all three annual competitions in several seasons, among a playing field of 100+ international collegiate teams.
OD17 (2021 Competition Season)
Fabrication Assistance, General Morale Boosting

OD16 (2020 Competition Season)
Body Panels and Materials, Advanced Manufacturing, Ergonomics System Goals, Mentoring

M15 (2019 Competition Season)
Front Upright, Ball Joints

M14 (2018 Competition Season)
Rear Upright

OD13 (2017 Competition Season)
Suspension Link Fixtures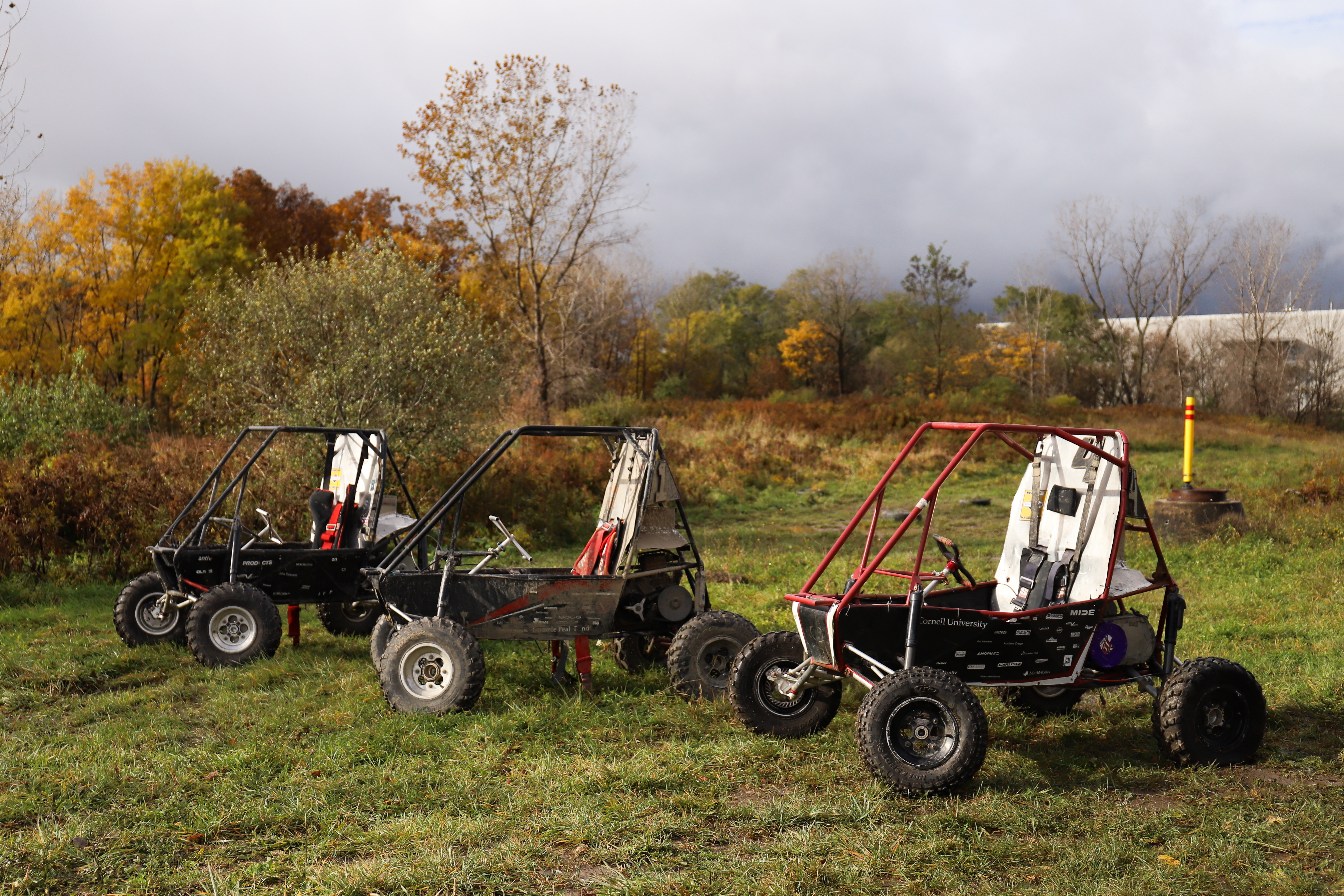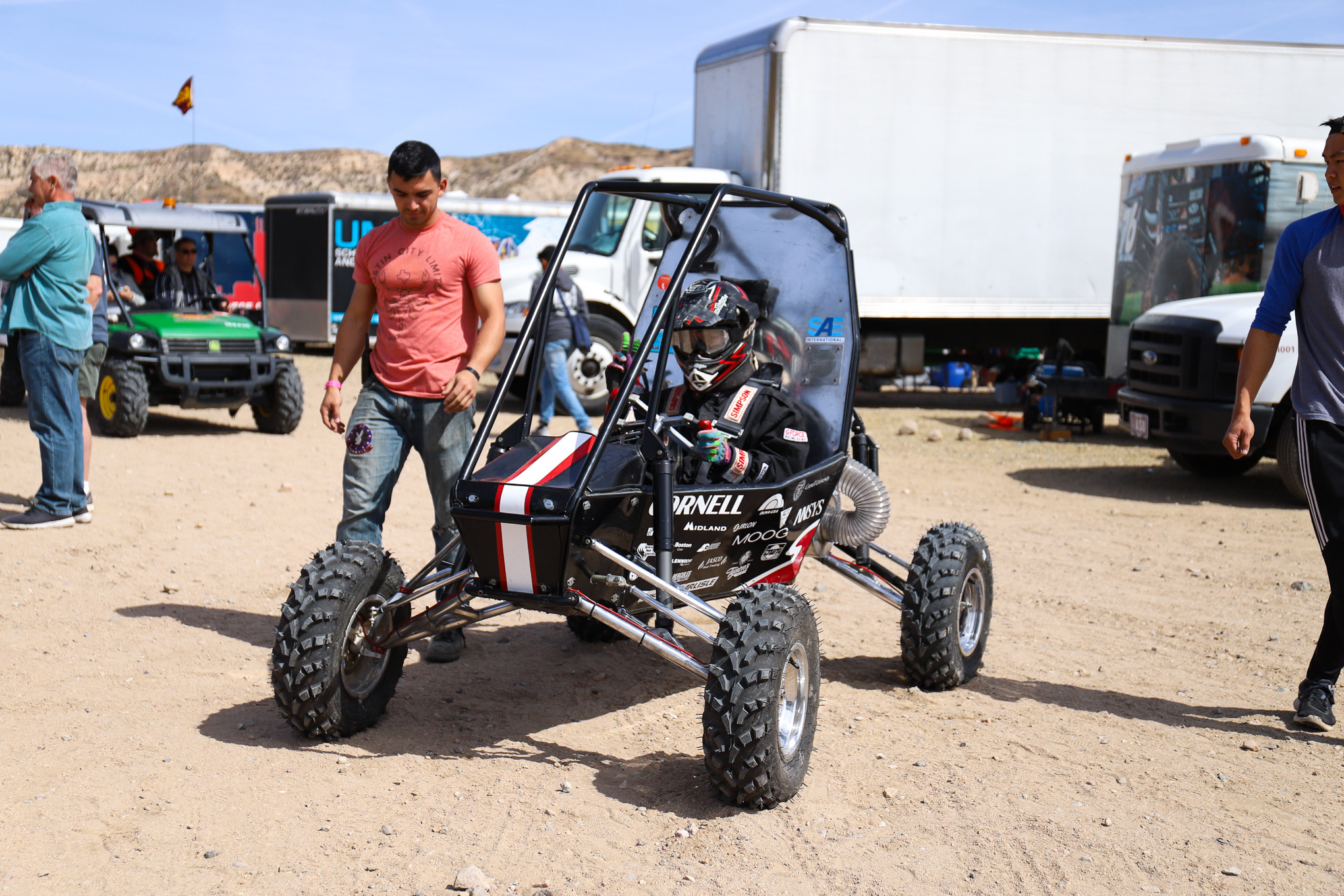 MAE4340: Innovative Product Design
Ithaca, NY

biGrip
Fall 2019

In Fall 2019, I (in a group of 7 MAE seniors) ideated, designed, and prototyped the 'biGrip', an ergonomic grip designed for the elderly and those with mobility or dexterity issues.

The biGrip was created to allow gripping of any implement by joints that cannot be entirely curled, and will guide the user's fingers to the specific optimal position through a simple visual guide. It is designed for a wide variety of grip and hand sizes, as well as any shape of implement to be gripped, due to the use of an inflatable bladder as the internal adaptable gripping mechanism. The biGrip's innovative shape allows the same tool to be used for both the internal and external precision grips.

Calling our group 'Squoval', we worked through the design process from beginning to end: we performed empathy fieldwork to identify real-world challenges by speaking to the elderly ourselves, and synthesized this knowledge using systems engineering tools to create problem statements defining the scopes of possible products. We then created looks-like and works-like prototypes, modeled the shape in clay, 3D-scanned it into CAD, and used a Formlabs Form 2 and Stratasys Objet to print the shell. After assembling and presenting the final prototypes, we created a manufacturing guideline to show the path ahead in mass-producing biGrips, as well as completed preliminary patent paperwork to learn more about the IP process.
MAE3780: Mechatronics
Ithaca, NY

Cyclops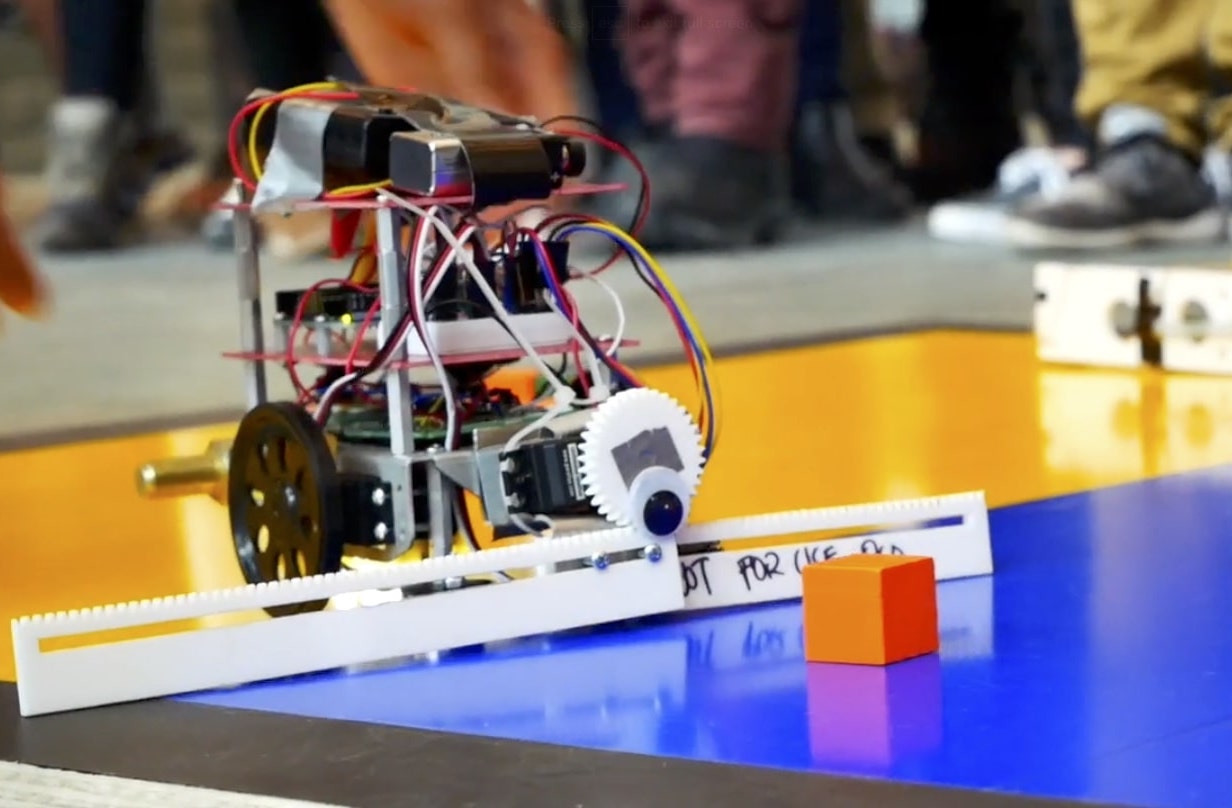 Fall 2018

The final project of Cornell's Mechatronics class is the Cube Craze competition- students design and build a robot capable of pushing 1" wood cubes onto the opponent's side of a playing field. The winner is the team with fewer cubes left on their side than the opponent's after 60 seconds.

Our team of 3 created a robust robot with an actuated rack-and-pinion mechanism to increase pushable area. Allowing a compact form factor to expand into a larger shape ensured that even if pins were disconnected and the mechanism did not work, our robot would still be able to function effectively in competition. We were not allowed to use the Arduino IDE, and had to hard-code motion planning and sensor checks in C to ensure our robot was not exceeding the bounds of the board.

Because of the reliability of our robot, we reached the semi-finals of Cube Craze and earned the maximum amount of extra credit possible in the competition.
MAE2250: Mechanical Synthesis
Ithaca, NY

Piston-based Water Pump
Spring 2018
As part of MAE2250: Mechanical Synthesis, students are expected to design, manufacture, and test a pump that is capable of pumping at least 1 liter of water within 60 seconds.

My role on a group of 6 was to design the pump in CAD using Fusion 360, as well as take the lead on machining necessary components. We built a crankshaft-style double-piston pump and pumped nearly 6 liters using it. One of the challenges of deciding on a piston pump was preventing seizing- we made the call early on to sacrifice a bit of travel to make the piston head thicker and make the pump foolproof. Between using Delrin (acetal resin) for the piston heads and a great machining job done by the group, our pump was capable of being operated by hand- no other pump in the class that year was.